To create welcoming common spaces, it's important to invest in urban art in all its forms. Last year, rue Laurier Ouest inaugurated a sculpture, Renouée, by aboriginal artist Nadia Myre, at the intersection of côte Sainte-Catherine and Laurier.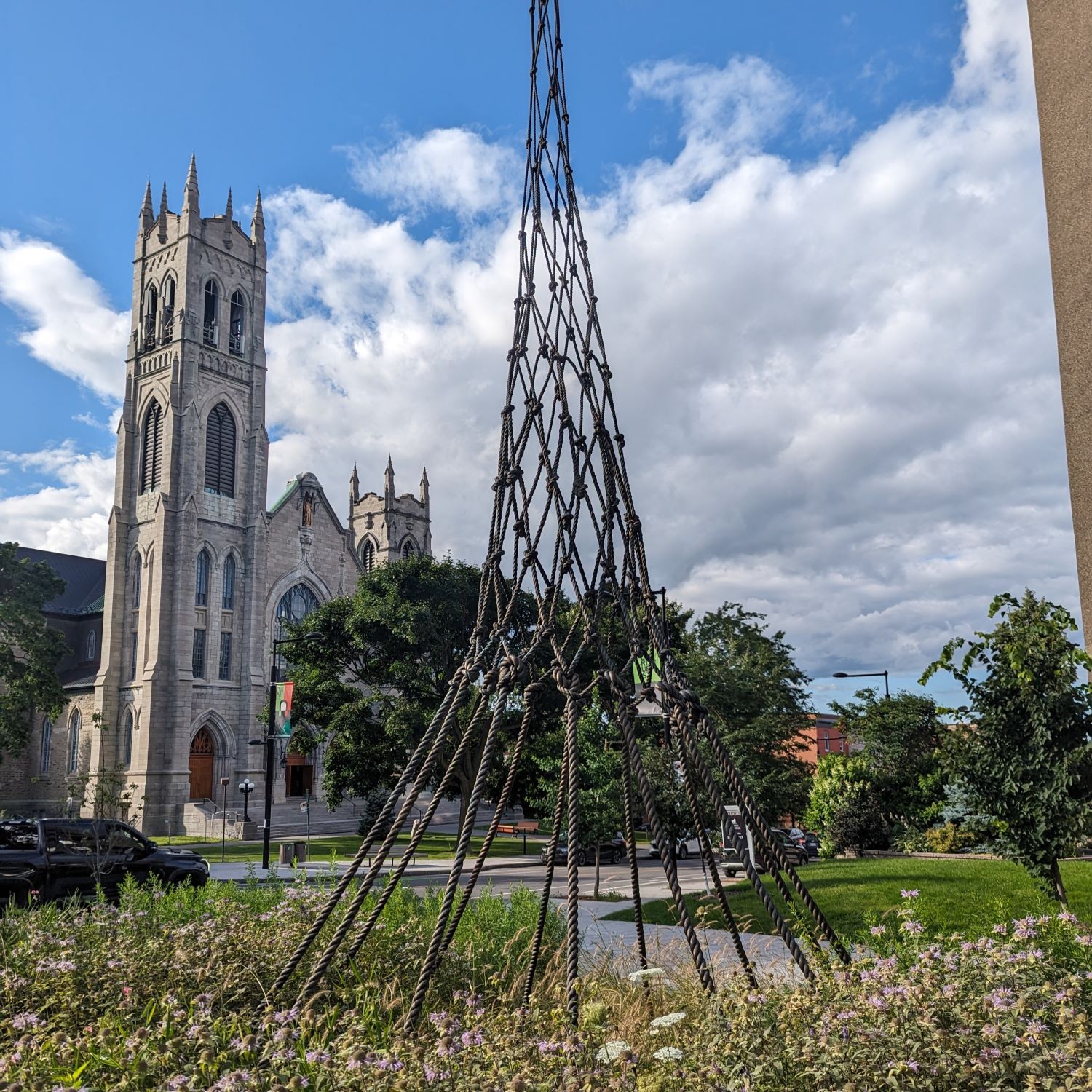 The work represents the social fabric and the cohabitation of cultures (source)
With this in mind, SDC Laurier O has chosen to extend this artistic momentum by renovating the façade of Belz Community School. This decision reflects the ongoing commitment to creating inspiring urban spaces, where art in all its forms can merge with the social and cultural fabric of the city. It's also an opportunity to landscape the space in front of the facade by integrating public benches and protective hedges that will safeguard the work from graffiti.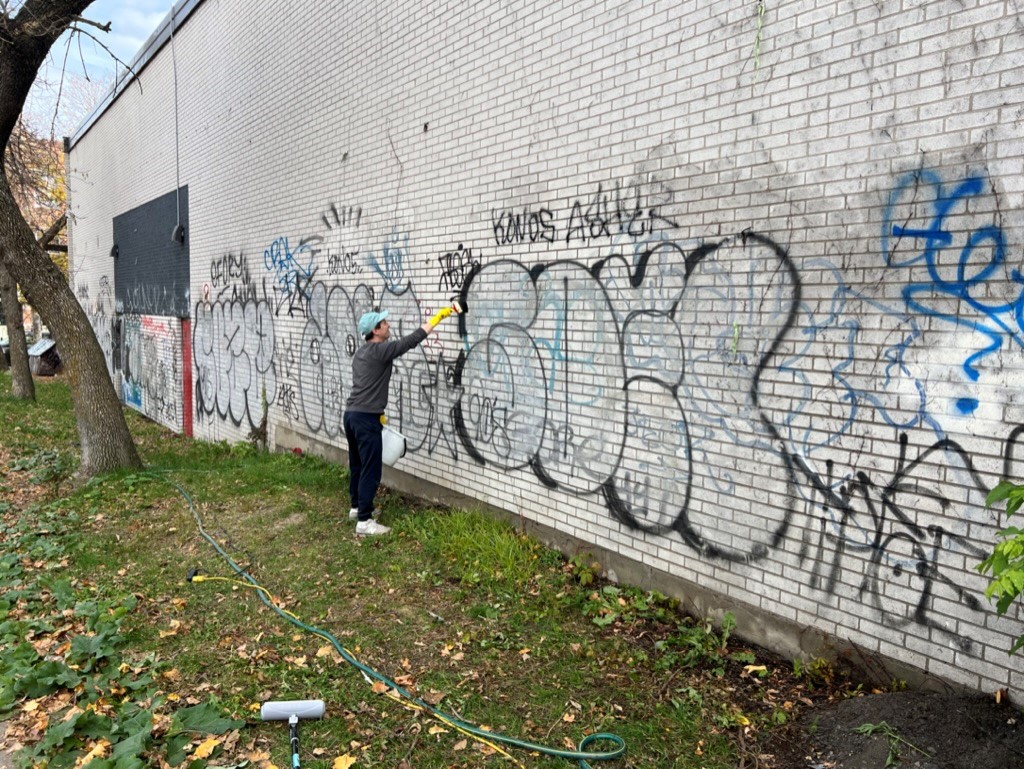 Fall 2022 – Graffiti removal on the school – Gabriel Dallaire, Director of SDC Laurier West,
A native of Paris, Seth emerged in the art world embellishing the city's walls in the mid-90s, particularly in the 20th arrondissement, where his mastery of character-based graffiti captivated attention. A graduate of the École Nationale des Arts Décoratifs, he co-wrote the best-selling book "Kapital" in 2000, becoming a benchmark for French graffiti, and then founded Wasted Talent in 2004, a publishing house dedicated to urban artists. His career took him from the streets to worldwide explorations from 2003 onwards, encountering diverse cultures and shaping a recognizable style based on childhood. Using the innocence of his characters to explore social and political issues, Seth creates engaged urban painting that speaks to the heart of contemporary artistic expression.
We were lucky enough to meet Seth in Paris, among his works exhibited at the Musée en Herbe.
Gabriel Dallaire and Seth in Paris
In his artistic approach, Seth skilfully merges place and its historical narrative to create a deep connection between the message of his work and the surrounding community. The mural that will take shape on the Orthodox Jewish School will explore the theme of education by depicting a young girl amidst books. Her gaze turned towards the building will invite passers-by to imagine the inner world of the girls' school, embodying a bridge between the cultural heritage of the Orthodox Jewish community and contemporary expression.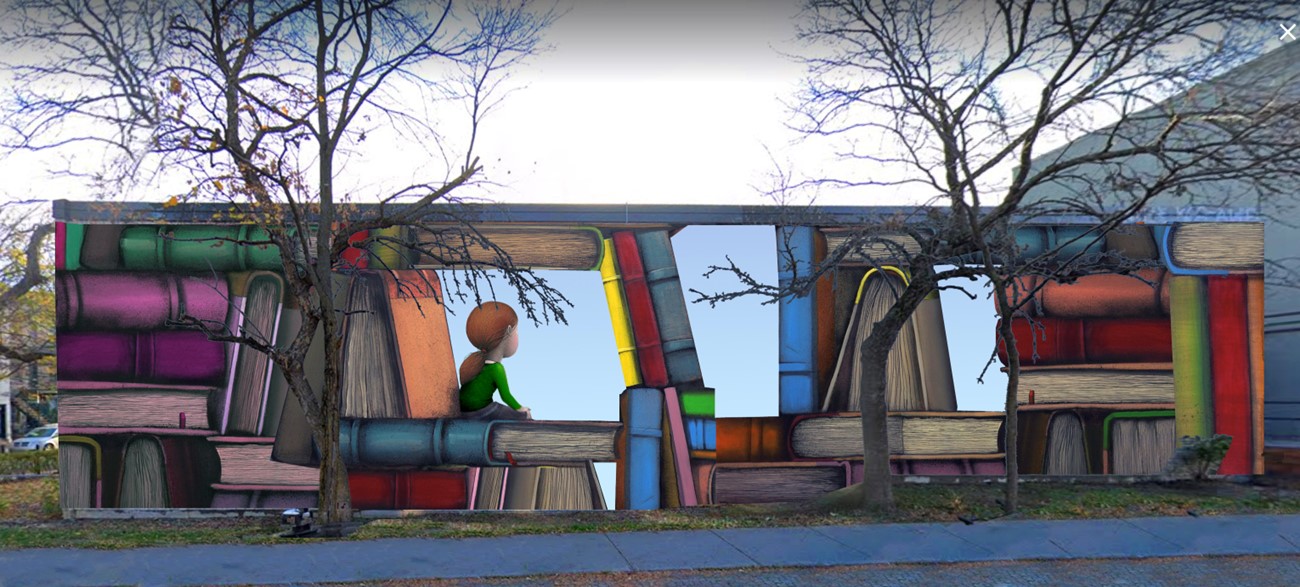 We're extremely proud of the outcome of this major project! There will a projection of the draft on the wall the 5th of September in beetween 19:00-22:00 
COME AND MEET THE ARTIST AT WORK, FROM SEPTEMBER 5 TO 14!